Exterior Lighting
Area Lighting, Inc. is the premier company for all your Parking lot, exterior building lighting & maintenance needs. Outdoor lighting is one of the most important elements when it comes to maintaining your Shopping Center, Office Park or HOA. Contact us today and keep your outdoor lighting working properly with one of Area Lighting, Inc.'s many services.
Maintenance Programs:
Properly maintaining your outdoor lighting is key for saving money and keeping your site properly lit. We offer customizable maintenance programs to ensure our customers are supplied with exceptional service. With our state of the art Service and Dispatch program, efficiency, organization and competitive rates, the service you receive are steps above the rest.
Area Lighting, Inc. can maintain your one property up to your entire portfolio efficiently with our regular service and maintenance programs. With our different service level choices, you can choose the service program that best suits your needs.
We are a full service company with the ability to maintain your entire lighting system from the electrical control panel to the light fixture and all the components in between. See why our customers choose our premier service programs over the rest.
Upgrades:
Make your site more energy efficient and give it that much needed facelift by upgrading your existing exterior lighting. Reducing your energy consumption, while getting more light output, is possible with our Fixture Upgrade Program. Get a return on your investment from your energy savings by using Area Lighting, Inc.. We will prepare a complete report on your site showing your energy savings, return on investment and any rebates offered for your project.
Controls:
From dusk to dawn controls to fully programmable lighting controls, Area Lighting, Inc. is your source for all your lighting control needs. Ensure that your lights are working properly by starting at the source. From regular maintenance to system upgrades, we can make sure your site is operating as efficiently as possible.

Serving Our Customers For Over 30 Years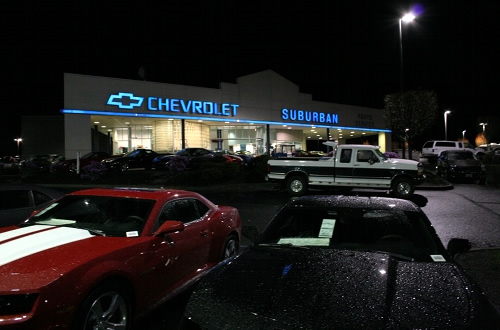 Contact Us Today
Contact Area Lighting Inc. to see what a
difference quality lighting can make!
Phone
Portland (503) 309-9945
Vancouver (360) 713-0628